5 Things to Consider When Hiring Marketing Support
March 30, 2022
0 Comment
Posted by

sadmin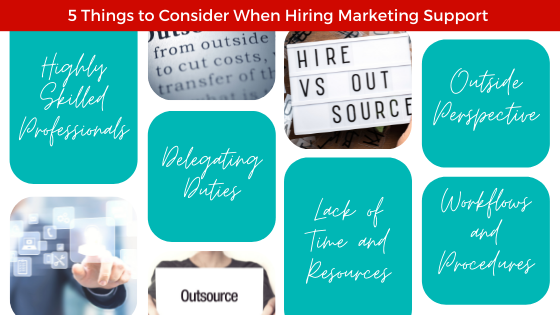 We find that many times when there is a need for additional services to keep a business moving, there is usually a decision between creating a brand-new position or using funds to outsource support. In line with our 5-year anniversary, we are taking a moment to discuss the pros of outsourcing your marketing services by providing you with a few items to consider – FIVE items to be exact.
Sign up to receive marketing information in your inbox and continue the 5-year celebration with us!  
Many small to midsize companies have been there. You recognize the gaps and immediately you, as a business leader, realize, "I need help!" But rather than spending a large portion of your budget on a highly trained employee, consider the diverse skill set and cost savings associated with outsourcing. 
Get support from a group of highly skilled professionals
There are a variety of marketing areas to address, each with specific subject matter experts. Consider the vast scope the position must focus on; marketing strategy, digital communications, research, analytics, and more. The list goes on and on. Finding an employee that would be effective in all these areas can be difficult and costly. Not to mention recruitment, training, benefits, equipment, and software needed for success. Oh my! The cost of programs and tools alone may make you reconsider. Are you shaking your head yet?
Why not consider utilizing your budget in a way that could be more cost-effective? Hiring a team of marketing professionals working together to achieve success in all these areas, that may be comparable to what you would end up spending on just one employee.
Assign duties that may be complicated to administer or control
Sometimes it isn't conducting the work that your staff may consider the most enjoyable. It could be the more complicated items that become overwhelming. Consider the follow-up, pulling reports, analyzing, or testing concepts. Who has the time amid everyday duties? It is one thing to schedule social media posts but don't forget the overall strategy, engaging with and responding to followers, and analyzing data. A team of professionals can save your staff time, while consistently working on the items that may regularly be avoided, or forgotten.
Lack of Time and Resources
Let's face it. Your job is to manage and lead, whether you are the CEO and are running the business or you are part of the two-person marketing team trying to balance all the departments' activities, it can be a struggle. Bandwidth is definitely something to ponder. While you can try to wear all the hats, the end result becomes the inability to truly evaluate efforts and gauge success. In addition to driving up operational costs with overtime payments and days out due to overworked staff. Consider the effort it takes to complete all the marketing activities to drive your organization's lead generation, as well as evaluate the findings and adjust accordingly. Save the trouble and stress, and work with a team to develop strategically coordinated efforts that will bring success to your company.
Thinking about it? Contact us to set up a free 30-minute consultation. 
Gain An Outside Perspective
Staring at a computer screen hoping new ideas will come is not going to get you where you need to go. An outside perspective can be seen as helpful and a sounding board that can provide a different way to look at things. A different perspective can provide out-of-the-box concepts, or help to expand new ideas. Even if you do have an individual focused on driving your marketing goals forward, we are sure they will appreciate the extra support.
Leverage proven workflows and procedures
When outsourcing support you not only get the use of additional assistance or an extra set of skills, you get an opportunity to leverage workflows and processes proven successful. Rather than spending time building your structure or trying to adapt it to fit your needs, allow a team of professionals to implement industry best practices. Why should you have to try to keep up with the latest tactics to keep your marketing running, consider utilizing communication, outreach, and well-defined methods that boost efficiency?
Evaluate the benefits
Some may argue that it is good to have an employee on hand when needed. While this may be true, let's think about the following:
A team of skilled professionals at your disposal that can provide an array of quality services, ready to hit the ground running versus one employee.
Your return on investment, including money, time, and resources.
An expanded mindset to explore ideas and concepts from all angles.
When you think about it, why wouldn't you want to invest in a team of professionals that can focus on your various needs and come in ready to get started? Outsourcing allows you as a business leader to focus on what's important in keeping your department and business running.