2023 Marketing Success Formula
February 15, 2023
0 Comment
Posted by

Bekoz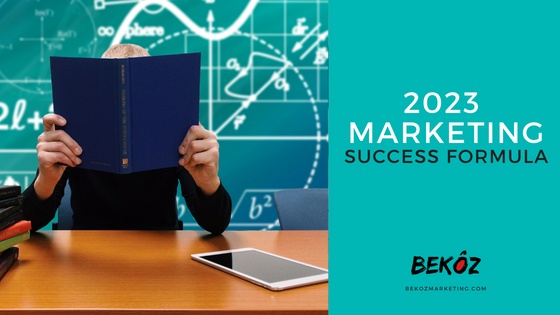 Thinking ahead and looking forward to marketing trends can be difficult. With so much to consider, how can you possibly know what direction to go in? No worries! The Bekoz Team has been keeping an eye out on things that have been trending.
Artificial Intelligence
Technology continues to amaze us with how quickly it evolves. Yet, with this swift expansion, the link between technology and marketing continues to grow. Content generation is one area impacted by this growth. While there are many ways to develop content, one particular avenue that has started to take the lead is using artificial intelligence (AI) technology to generate content. Did you know that you can have your content written for you in seconds? Put in several words about your topic and message, and several seconds later, you have the beginnings of a blog, social media post, and more. It makes you wonder…who or what wrote this? While this is a great tool that can be used, we assure you a member of the Bekoz Team wrote this piece!
Voice Search and SEO
Along the lines of AI, and within the realm of marketing tech, is the power of search. Have you recently used Google as a verb? We all have tried to search for products or services, whether it was with the help of Google or Siri. Search Engine Optimization (SEO) used to be based on traditional strategies, which may include inserting search terminology or keywords into a document, keeping your content updated and fresh, or ensuring that links from other sites (backlinks) led to your pages. However, as the tech industry expanded, so did the ability to find the products you are looking for using your voice. Plus, it's just easier. Is your website optimized for voice search capabilities? This is one thing you need to consider.
VR
We weren't playing when we mentioned that technology and marketing go hand and hand. Today you can get on several platforms and experience locations before physically visiting, thanks to Virtual Reality or VR capabilities. There are travel sights, attractions, doctors' offices and more that provide you with a 360-degree view with 3D imaging. You can see how a couch fits into your living room or try on a pair of prescription glasses without ever leaving your home. As technology continues to expand and companies such as Meta and Microsoft continue to research how we can take advantage of a virtual universe, this is definitely something you should be keeping your eye on.
User-Generated Content
What is better than free promotion? Word of mouth has taken a digital turn and is stronger than ever on social media. Your customers post pictures, leave statements, and provide reviews that entice others to seek out and utilize your business. Let them do the work for you. Simple search engine alerts will let you know who is talking about you and where. Be sure to share testimonials and keep copies of good reviews for use in your marketing efforts.
Influencer Partnerships
Now, let's step outside of the technical space for a moment. Regardless of the industry you may be in, there is always someone who may have something to say. Influencers are individuals who may be able to sway the opinion or behaviors of others. Many times we find influencers have a large following and may share their thoughts in a blog, vlog, live stream, or on social media. Additionally, most are known for their opinions on a particular area. There are travelers, foodies, fashionistas, businesses, and more. The investment to engage and hire these individuals may vary. Still, it could be worth the effort to expose a new set of potential customers to your business.
Stay on trend by considering and including these tactics in your upcoming marketing initiatives. Need support fitting them in your strategy. Give us a call.