4 Ways Brand Ambassadors Can Enhance Your Event
September 26, 2018
0 Comment
Posted by

Bekoz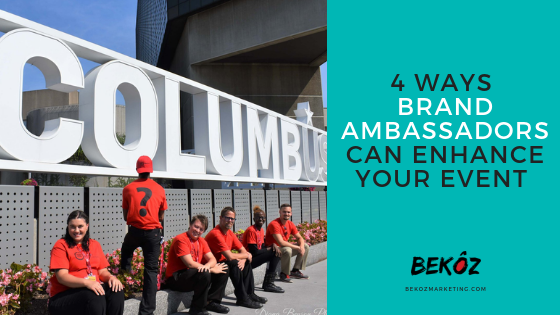 Imagine this…..
It is time for the event you have been working on for months, and your team is already stretched thin; the person designated for registration duty is also doubling as the room organizer and has to help setup. To make matters worse, you just got wind that members of the mayor's office may make a guest appearance for the welcome and opening plenary (after calling their office for weeks). You're wondering if you have enough staff to greet the guests, push traffic to the sessions AND, don't forget your onsite promotions.
What can you do? You can't be everywhere…insert…your designated Brand Ambassador team! Knowledgeable minds, an extra set of eyes and hands to ensure your event concerns and guests are taken care of.
Recruiting and training the best brand ambassador team is key to a successful event. We've traveled around the US to assist with various events, supporting our clients, and ultimately gathering the brightest and best within the local conference areas to support an organization's conference committees goals. We've seen first hand how brand ambassadors can provide an additional level of interaction, and engagement that wasn't present before or may have been missed otherwise. There are many ways your organization can benefit from including a brand ambassador team in your event plans; here are our top 4:
Onsite Brand Champions:
Want people to be fully aware of what your brand stands for before they leave? Who better than a team of individuals who take pride in representing your organization? Brand Ambassadors provide just that. You shouldn't assume that everyone attending your event may know about the full capabilities of your organization or maybe those who have been around for some time aren't fully aware of the latest and greatest achievements within the organization. Let's face it; we live in a society of information overload. So many times people just take in what they need, not necessarily everything you would like them to know. Properly trained Brand Ambassadors can help drive specific points and messages.
Create an interactive and memorable experience:
You know how you feel when you walk into a store, need help and there is no one around to assist you. Now add several hundred people in a place you may be unfamiliar with. One of the worst things event guests experience is having trouble finding people to assist them in their time of need. Nothing is more memorable or comforting than having an extra hand guide you when you are already frustrated by the hustle and bustle of getting to sessions or finding where you need to go. Ambassadors can provide information when needed, answer questions, escort the lost, help in serious situations or merely take pictures for guests; in turn, helping spread knowledge of the event in a social media-driven society.
Filling seats:
Need to impress a major sponsor, board member, or CEO that just decided they wanted to sit in? What do you do when you look around, and the room is empty? Run around and get everyone to file into the room. Only if you had the opportunity to get in some exercise and physically reach every person.
Internal communication mechanisms with your Brand Ambassador team can quickly get the word out to those who are strategically placed in heavy traffic areas. With one quick message, your team can begin to encourage people to move in the direction of the session. Let's be honest, with so much going on, sometimes informational sessions slip through the cracks. It could be timing, the end of the day, or when many decide to take a late lunch break. In any case, empty seats in front of top personnel is a bad look. Use a team of Ambassadors to guide the event's foot traffic. When the seats start to fill up, you won't have to hide your face any longer.
Post-event endorsement
Now you can rest, it's finally over, and you survived! But, wait…Now what? Who better to guide conversations regarding your event than those who were trained to know all about it. Whether online or off, word of mouth is still a heavy hitter in the world of marketing. Equip your Brand Ambassadors with proper messages, resources and assets to share information about your organizations after your event.
**BONUS TIP:
You can take your Ambassador Program a step further beyond in-person events! Heather Mansfield, Founder of Nonprofit Tech for Good, suggests creating a #GivingTuesday Ambassador program via social media…GENIUS!
Heather provides a few easy steps to get ambassadors on board for your organizations Giving Tuesday efforts.
Create an ambassador sign-up on your website, connect via email and provide your promo content, social graphics, etc. for your Giving Tuesday Campaign.

Leading up to Giving Tuesday, connect with your ambassadors and ask them to update their social profiles with the assets you provided.

If they can and are willing, ask your ambassadors to create a fundraising page for your Giving Tuesday campaign.

Activate your ambassadors on Giving Tuesday!

After Giving Tuesday, follow up with a "Thank You" and save the date for next year.
Reference: https://www.donorperfect.com/pdf/givingtuesday_2018.pdf
Could you benefit from having a team of Brand Ambassadors for your next event? Or maybe you're not sure if you need them and would like to discuss the option?
Connect with our team; we'll share with you a few case studies when Brand Ambassadors saved the day and then help you figure out the best solution for your organization!