5 Tips for Your Marketing Plan
January 30, 2020
0 Comment
Posted by

Bekoz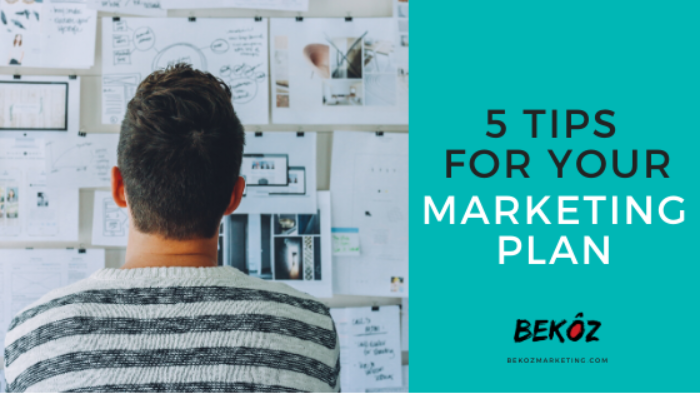 Whether you're working on the marketing section of your business plan or developing a standalone marketing strategy for your business or organization, we have five tips you can use to establish a thorough roadmap of how you will attract and retain consumers.
1. Define your target market.
Really get to know who you are targeting with marketing messages about your product or service. How old are they? Do they have a specific gender identity? Where are they located? What stage of life are they in? Where do they spend their time and money? What are their beliefs, interests, and values?
Also get to know your competition. Who are your competitors? Who are they targeting with their marketing messages? Are their marketing efforts effective? If so, how? What can you learn from them and apply to your marketing?
We like Hootsuite's guide to audience research. https://blog.hootsuite.com/target-market/

2. Determine the 4 Ps.
Figure out the mix of tools that you will use to reach your target market.
Product — Do you have an actual, tangible product or service that you are offering? What core product (benefit to the consumer) is associated with your actual product or service? Are there augmented products you offer to help consumers use your actual product or service?
Price — How much are you going to charge for your product or service? What pricing structure will you use for your product or service?
Place — What physical and/or virtual channels will you use to distribute marketing messages about your product or service? Where will consumers be able to access information about your product or service?
Promotion — What marketing messages will you use to make consumers aware of your product or service? What marketing messages will you use to persuade them to purchase your product or service? And what marketing messages will you use to keep them coming back for more?
3. Describe your unique selling proposition
Make sure you have a clear understanding of the value of your business or brand and your product or service. What makes you different from your competitors? What can you offer consumers that your competitors cannot?

4. Develop your positioning statement
Ensure you and your internal team have a clear vision for how you want consumers to perceive your brand or business. This one-sentence statement answers the following questions: 1) Who is the target market? 2) What does the target market need? 3) How will your business meet their needs? 4) What differentiates your product or service from your competitors? 5) Why should consumers in your target market believe your claims?
We think Hubspot's positioning statement template is a great starting point. https://blog.hubspot.com/sales/positioning-statement
5. Determine your key performance indicators
Before you begin implementing your marketing plan, make sure you know how you are measuring success. What are you trying to achieve with your marketing efforts? Increase brand awareness? Generate more leads? Increase your market share? Improve traffic to your website? What key performance indicators (or metrics) do you need to monitor to measure your success?
Reference this list of marketing metrics from CoSchedule. https://coschedule.com/marketing-strategy/marketing-metrics-kpis/
At Bekoz Marketing, we can assist you through this process, and help you implement innovative strategies and tactics to accomplish your marketing goals.
Learn more about us: https://bekozmarketing.com/capabilities/.