#AllThingsTrending
November 24, 2020
0 Comment
Posted by

sadmin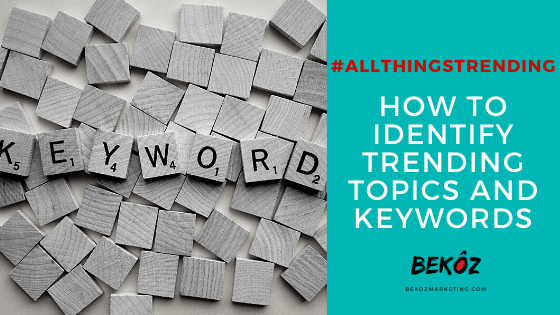 Have you ever wondered how bloggers with the best content come up with those mouth watering topics? It's the kind of information everyone wants to know and will search to get it! It's the kind of content that starts to trend and helps generate traffic to their website, social media, and more. Don't just sit back and envy others for the content they are posting. Instead, learn the tricks of the trade, and begin to provide engaging content that will leave people wanting more. With a good strategy and additional items to add to your content marketing tool box, you'll be delivering content that will lure your target audience right through your virtual door.
Develop a Keyword Strategy
Let's start by developing a keyword strategy. Identifying a few key words that align with your organization and industry can help bring attention to your content and lead people who are searching for specific services or products right to you. We need to consider the dos and don'ts of keyword usage in content development.
| | |
| --- | --- |
| Do… | Don't… |
| Consider your CLIENT first. Think about search terms used by your target market to search for specific items. | Search engines are smart. Don't OVERLOAD your content with keywords. Instead use synonyms or similar terms as well. |
| Keep content keywords, topics and the overall message VALUE-DRIVEN. | Do not post IRRELEVANT topics or items that will take away from your focus. |
| Develop a list of words that can be placed into CLUSTERS and act as subtopics for your main subject. | Avoid SPORADICALLY spreading topics across your site. Develop a strategy that will add to the user's experience. |
| Use KEYWORDS in the post/page url and topic titles. | Do not GIVE UP on your existing SEO strategy. |
https://www.searchenginewatch.com/2020/07/23/how-to-use-trending-keywords-from-current-events-in-content-marketing/
Identify trending topics
Now that we have an idea of what to do and what not to do, how do you find trending topics and incorporate keywords into your content creation? By now you should have thought of several industry, product or service related keywords to utilize. If not, here's an example to give you an idea. Let's take a healthcare organization focused on providing educational awareness regarding the latest with COVID-19. Keywords may include the obvious:
Coronavirus
COVID-19
Pandemic
But what about also including:
Vaccine
Symptoms
Quarantine
These keywords can be placed into groups and incorporated within main topics helping to guide the direction of your content. Keywords can also be utilized to bring attention to topic titles. Back to our healthcare organization example…
Top 5 things to know about the Coronavirus.
COVID-19 Resources, what to do if infected?
However, the question still remains, are these topics people want to know about and will they draw traffic to your website? There are a number of tools and resources (free and paid), that can help you determine what may be trending or what popular topics are within a specific industry.
See what people are discussing on Quara.com. Quara is a place anyone can go to share knowledge and ask questions. Visit the site and take a look at the most popular posts. Using this site, you can gain ideas about what people are thinking about topics and develop content surrounding those ideas.
Plug terms into the Google search engine and scroll down to the bottom to look up related search suggestions. Utilize the "Autocomplete" tool. When putting a term into Google's search box, a number of terms will drop down appearing below the term you have listed. These terms, questions or phases are the most searched items related to what you have placed in the search console. Another Google function great for finding related content and popular trends is Google Trends. Visit the site and see what great information you can obtain by listing a simple word or phrase.
Another way to determine how well your topic is trending is to utilize Buzzsumo, which will allow you to see how well topics are doing across social media or articles.
By doing a quick search and utilizing these sites we found some popular topics across the U.S.
The most interesting 'top searched for' results from across the globe:
US
Most popular news resources: Fox News, CNN, ESPN
Most popular retailers: Amazon, Walmart, Ebay
Most popular streaming platforms: Amazon Prime, Netflix, Hulu
Most popular food chains: Domino's, Pizza Hut, McDonald's
Globally
'Dalgona coffee' – the homemade coffee prepared from instant coffee, sugar, water and milk, which looks like the coffee from the best coffee house which quickly became a hit on Instagram, – is the most trending keyword globally.
US
When President Donald Trump signed the CARES act, Google searches for the keyword 'Stimulus check' exceeded 20 million searches per month, and became the most trending keyword in the U.S. in 2020 and still is so far.
Top Google Searches
Everyone wants to have a trending brand or topic, but with so many trying to achieve the same goals, how do you separate yourself? Take into consideration featured articles based on content topics that match your target market personas.
Build Topic Clusters
Topic Clusters help with content organization by connecting subtopics to main themes and keywords. They are a great addition to your SEO or content marketing strategy. Content clusters help both the person searching for information, as well as the search engine itself. Search engines are looking for information and content they feel will be beneficial to the searcher. Think of clusters as subtopics of similar information which can be linked to a broad core topic and provide insight of a main topic at a deeper level. Adding trending topics into the cluster to provide information about a core topic will help search engines find your content helpful as it fulfills the need of what your market is searching for.
Use subtopics for blog posts, downloadables, and more. Be sure to link subtopics to core pages where applicable. Be sure these topics support at least one of your products or services. Use your content to educate, entertain and engage, then watch them keep coming back.
If we go back to our health care example we can develop core
Core Topic: Healthcare

Beat the Coronavirus by building your immune system.
Signs and systems of Coronavirus.
Preexisting conditions that can worsen the effects of the Coronavirus.
Core Topic: Education

Where to get tested for COVID-19.
What happens when testing for the Coronavirus.
6 things to do while in Quarantine.
Telehealth options when you can't leave the house.
Determine what's trending and implement these few steps for your SEO strategy to enhance traffic your website! Interested in gaining more  helpful ways to see what's trending? Download a checklist of items to consider and utilize when developing your content.