Getting the Best out of Facebook Part II: Engage Your Audience with Content
September 4, 2019
0 Comment
Posted by

Bekoz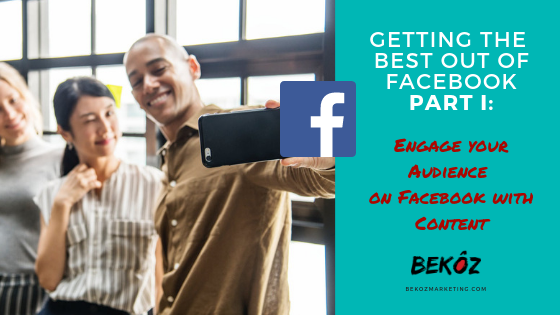 There is so much you can get from a business page that your personal page does not provide, including the ability to check page insights so you can determine who you are talking to, where they are coming from, as well as what content is attracting attention and the time of day your page has the most activity.  Why miss out on the opportunity to do this for free? 
Yes, a website does provide potential customers with the same information but forces customers to search the internet to seek out information about your business or service. While websites are essential and offer you an online hub, it is best if this information is also provided on the platforms your customers are already on. Reach them right where they are. 
Once the page is set up and branded to match your companies look and feel, use these tips to take full advantage of what the platform has to offer by gaining the attention of the people you want purchasing/supporting your product or services.

1. Be Engaging
When customers contact you, use Messenger, a separate application built into the page to reach out directly. Acknowledge customers who leave comments in a timely matter. Reply as soon as you can. If a message is left in the Messenger after hours or you know you will not be available, use the away message function. Connecting with your followers will help build longer, stronger relationships. According to Facebook Representatives, one in three Instagram stories gets a direct message. People are watching. Respond, and you may have a new business lead!
Use events and groups to share. Share events by giving them their own little space on your page. This will allow people to share your activities and note if they plan on going, enticing others to consider attending the activity as well. Facebook Groups will allow your online community to come together to freely share thoughts, questions, ideas, and interact through discussions. Setting up a group can help you establish the culture of your brand with customers. It will also give you a space to see what is on customers minds.
2. Go Live!
Facebook provides you the opportunity to communicate with your followers right from your desktop in real time with Facebook Live. Once people join, watch the comments come in and respond to questions on the spot. A small number placed at the top of the feed will allow you to see just how many people may be watching. To get the most out of Facebook live, be sure to:
Announce when you plan to go-live in advance.
Give just a few minutes for people to join right after you have gone live. This can be done with light conversation in the beginning or by taking the time to acknowledge people as they enter.
Be sure to answer comments and questions that are coming in while you are live or acknowledge people who have joined you in the middle of your session.
Remember to mention what the discussion is about during your session. Not everyone will be joining at the same time. Some may participate in the middle or even towards the end. By reiterating your name and how they can get more information, you ensure as many people as possible are getting the information you are trying to deliver.
3. Create Content
During the Boost Conference, owners of local businesses discussed critical items that helped them succeed. Items included being consistent and taking the time to plan out your content. Set time aside to thoughtfully create your post and use applications like Hootsuite to schedule them. If you are not interested in using an outside platform, draft and schedule posts using the "Publishing Tools" feature embedded into the administrative portion of your page. Review and schedule posts to come out so your posts will come out automatically.
Have a good mix. Don't just use the platform to sell, sell, sell. Engage followers with educational content that makes them want to come back and learn more.
Once posts have been released, be sure to check in on them. Analytics are provided for you to determine what topics are getting the best traction. Reviewing these data points will allow you to make changes that will continue to increase engagement.
4. Get a BOOST for your business through advertising
Just like anything, before you start spending money on boosting a post or setting up an ad, you need to understand what you are doing and establish a plan. So here is a quick synopsis. You can boost a post when the content has already been provided on the page. When you "boost a post," you are paying to expose content that has already been created – increasing the number of people who see that particular post. You can specify your demographic, boost duration, and budget. Click the boost button in the bottom right-hand corner of the post. An ad, on the other hand, is created from scratch, adding text, visuals, and call to action buttons that will grab attention enticing people to buy, shop now, etc. In either case, consider what the ad objectives and your end goals are. Is it to:
Create Ad Awareness
Push Traffic to a page by promoting your service/product
Create lead generation that will help gather information on your users, which will convert them into customers, increasing conversion levels.
Your goals may also affect how the ad will be displayed. Consider these format choices:
Slideshow in photo and video formats
Carousel with up to 10 photos
Video
Or if on Instagram – Instagram stories