Stay Connected to the Community During the COVID19 Crisis
March 24, 2020
0 Comment
Posted by

sadmin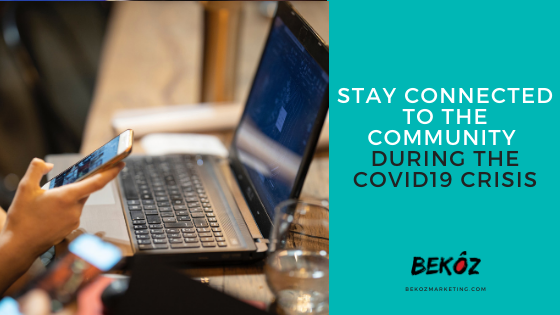 Have you checked your inbox lately?
In the past week, inboxes have been inundated with multiple emails regarding the Coronavirus (COVID-19) and how companies and organizations are assuring their customers and constituents that they are here and available to them.  COVID-19 has turned the lives of many upside down. We have begun practicing social distancing, schools have closed or moved to relying heavily on online learning, more people are working from remote locations and in some areas entertainment facilities, restaurants, gyms and more have shut down. However, this separation doesn't mean you have to be disconnected from your constituents and audience. There are many options to engage with your community virtually. Although we may not see each other, our communication doesn't need to stop. Instead we may have to think of more innovative ways to connect. 
Email is only one way to communicate with customers or your teams, but consider some of these other options to engage with your community virtually and ways to promote general communication among your colleagues, customers, families and friends while separated.
Hold a Tele-Town Hall: The NAACP hosted an Emergency Tele-Town Hall a few weeks ago to address COVID-19 and its potential impact on communities of color. They offered a call-in number as well as a registration form for members of the media. Invited panelist, including the U.S. Surgeon General, Dr. Jerome Adams, were on board to share updates and answer questions. After the town hall session – NAACP provided an audio recording of the session for individuals that couldn't attend or those that wanted to review the discussion again.
Conduct Facebook Live: Consider a live broadcast using Facebook Live to keep your members, partners and constituents informed about the organization and your current initiatives. Last week Mark Zuckerberg CEO of Facebook conducted a Facebook Live with Dr. Anthony Fauci who leads the National Institute of Allergy and Infectious Diseases. Zuckerberg and Dr. Fauci had a 30+ minute discussion around the wide-spread of COVID-19. A great way to reach audiences that may look to get their news from social media channels like Facebook rather than traditional news outlets.
Schedule Virtual Office hours sessions: Let your community know you are still listening and you hear them by conducting virtual office hour sessions. Invite your audience to submit questions in advance, let them know the date and time that you will address the questions virtually. You can conduct the sessions every Friday at noon to address questions your organization received throughout the week.
A few additional tips to consider when planning your virtual sessions:
Make time for dry-runs and testing: While some of your communication efforts may need to be rapid-response, please try and make time for dry-runs and/or testing of the platform. We may have used these platforms before, but have we expected the amount of participants that may dial in or join? Do we have them all muted-upon-entry? Is the chat mechanism set up properly to accept questions? Last but not least, is your camera set up properly so that folks can see you and your team. That is one important aspect of connection, being able to see the person that is delivering the message.
Stay positive through all of this: You may want to even consider a virtual lunch bunch or virtual happy hour with your team to keep everyone connected, and positive. Although these are crazy times it doesn't mean we have to lose the good in what we do. It has just forced us all to re-evaluate how we are offering support and services. If you're feeling really fun and funky – throw a dance party like D-Nice's "Club Quarantine" – a fun way to bring everyone together (virtually) during a crisis!
Bekoz Marketing is still open and available to you. We practice what we preach and we use Zoom and Google Hangouts to connect with you. Undoubtedly your organization and business is working through how to properly communicate with your constituents and focusing on how to reassure them during this time. Let's work together on this!