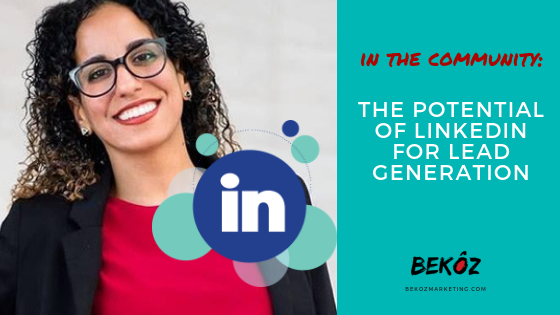 In the Community: Managing Partner, Sheebah Smith, participated in Business Appreciation Week with local associations to learn more about LinkedIn from Thomas Ellis of EWC Consultants.
Are you interested in getting more out of LinkedIn? It seems many are using LinkedIn to stay connected or to simply have a presence, but are you utilizing it to its full potential? Are you engaging with possible leads, enhancing relationships, or establishing yourself as an industry thought leader? Instead of jumping on and wasting time passively scanning your timeline, do just a few things that will place you in a position to generate leads for profitability. Here are some takeaways I gathered after attending the Calvert County Minority Business Alliance and Calvert County Economic Development LinkedIn seminar with Thomas Ellis of EWC Consultants during Business Appreciation Week. 
Focus on establishing a profile that makes people want to reach out to you. The first step is to evaluate your profile to ensure it is complete.
Think about what sets you apart from so many others using the business platform. Ellis specifically describes this as what makes you "better, unique, and desirable?" Once these traits are in mind summarize them into the Headline section of your profile. Remember to be bold and colorful, and explain the problems a person or organization may have that you can solve.
In a society that speed reads you want to have images, photos, and content that will quickly draw in people. Add pictures and videos if you haven't already. Not just an inviting professional profile or banner picture, but photos throughout the profile that will visually show your experience. Add them to your summary, under your work experience, and ensure they are inviting (i.e., Remember to smile!) Don't have any pictures? Start taking them today!
Remember, bullets are your friend. As you entice people with the knowledge you bring to the table, use bullets to help readers quickly get the main points you want them to see. Don't intimidate them with long paragraphs making it hard for them to find the information they need. This can be done as you explain what you do and who you do it for in the summary section, as well as what you did in the experience section.
Once you have completed a job or you find someone is pleased with your work, request a recommendation. To ensure time doesn't get away from you, do it within 24 hours while things are fresh. Approve recommendations that will promote your services and speak to your target audience. We all know the acknowledgment that comes along with a word of mouth recommendation is unmeasurable due to the trust held between those who are giving and accepting the recommendation. Think of LinkedIn as your vertical word of mouth recommendation bank.
Lastly, engage…engage…engage. Show your expertise by providing content or replying to someone's post. Build relationships through comments, likes, and shares. Use Google alerts to feed you information on your industry or trends and provide a post with your comments. Then watch the magic occur. In this way alone you begin to establish and strengthen relationships while establishing yourself as a thought leader within your particular industry. Additionally, you remain at the forefront of people's minds so when they think of someone to refer, they think of you.
According to Ellis, all you need is 30 minutes a day. After leaving the workshop, I headed to my LinkedIn profile to determine what changes needed to be made. Needless to say, there are always things you can do to make it better. A tweak here and there, now I am on my way to better-utilizing LinkedIn myself. I've added these essential tips to my routine. What about you? Are you committed?
https://bekozmarketing.com/wp-content/uploads/2019/05/LinkedIn.png
315
560
Sheebah
https://bekozmarketing.com/wp-content/uploads/2022/01/Providing-Strategic-Marketing-Solutions-for-Organizations-Dedication-to-Community-Enhancement-and-Social-Improvement.-3.png
Sheebah
2019-05-08 18:34:02
2019-05-10 16:16:51
The Potential of LinkedIn for Lead-Generation