Vision Boards for Business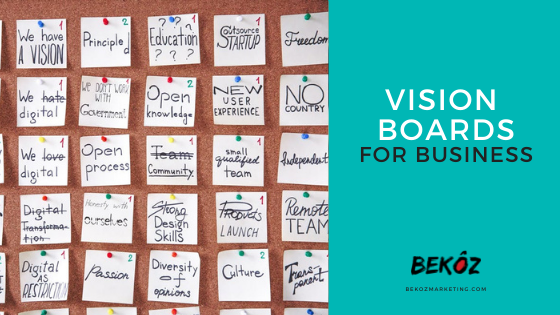 Tis the season…to complete your vision board! Now, we know what you are thinking. How can a board filled with random pictures and words be good for your business? Well, if this collage encompasses where you want to go and where you want your business to be, it can keep your goals and visions at the forefront of your mind. A vision board can be a powerful tool utilized to help you stay focused. However, throwing photos on a board and hoping for the best is not all it takes.
What is a Business Vision Board?
Simply put, a vision board is a display of images or words that act as motivation by representing aspirations and goals you want to achieve. Creating one can help you see the big picture of what you are trying to accomplish in a visual way.
Why Create One?
We have all heard that when developing a business, you should have a business plan including goals, objectives, and a general idea of where you want to go and what you want to do. Part of that business plan of course includes your marketing efforts. When we start out, we have a vision for our businesses. However, when we've been in the business for some time it is easy to get inundated with the inner workings of the business and we can easily lose sight of some of our major goals.
By chance, did your original vision change? To ensure your business is not stagnant, it is best to develop a vision board and refresh it annually. This will allow you to focus on your goals and see the progression in your business. It will help you get creative and think of what new and innovative marketing tactics you can use. If you see it, you can manifest it. Not only can you manifest it but having something you can view regularly and evaluate, provides an avenue for accountability. Hone in on what you want by placing your goals in an easily digestible format, helping to increase your focus and clarity.
What to include?
You have heard it before. Pictures are worth a thousand words. When structured it can help organize the many thoughts that continue to live in your head and provide clear intentions. First, you have to have goals. Conduct a small activity to discover where you want your business to be. Ask yourself:
What do I want to accomplish this year?
What tools will I use?
Are there people or companies I would like to meet with that can help me achieve my goals?
What is my theme for the year?
What percentage would I like to grow my client base or revenue?
Then once you have your answers, it's time to strategize! Find images or quotes that align with your responses.
Let's Get Your Board Started!
Vision boards can come in many formats. You may want a physical one you can hang on your wall. If this is the case look for magazines, grab some glue, poster board, scissors; take it back to Elementary school and get to work! Cork Boards and thumbtacks work well too. Interested in a digital option? Start a board on Pinterest or develop a digital graphic using platforms such as Canva. Once you have the format in mind, go to work. Begin the creation phase by assembling your board in a collage format and be creative. Your business' vision board is for your business and does not need to match any others. It is solely for you and your team. From here, all you need is a little free time. Sorry, we can't help with that part. While this may be difficult, remember one thing, people find time for what's important to them, business included.
Once complete, hang it where you can view it often. If it is digital, think about making it your computer, tablet, or phone screen saver.
Creative Goal Setting that Works
Remember to make goals realistic and achievable. Long-term vision goals may encompass the BIG picture. But yearly boards should be focused on what you can achieve this year. Once you have your vision and board established, work on a strategy that will help you achieve your goals. Do you need support with strategy development? We are here to help guide the way! Email [email protected]. We are eager to see you win!