Wanted: Social Media Intern
September 26, 2018
0 Comment
Posted by

Bekoz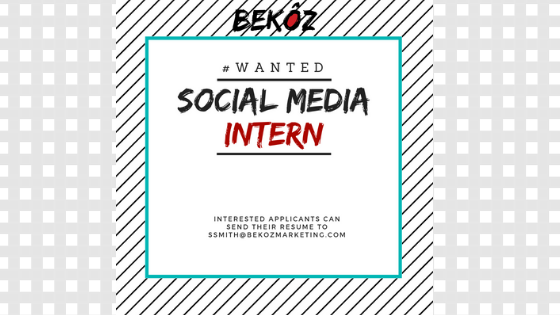 Bekoz is looking for a Social Media Intern to join our dynamic team and provide support for our online brand and community. You will gain valuable experience in social media administration and learn the ins and outs of marketing while aiding in Bekoz's online communication efforts.
Tasks Include:
· Creating content calendars
· Assisting with social media management and reporting
· Drafting social media posts and analyzing social media data
· Assisting with content and online campaigns
· Assisting with online community management
· Additional digital media tasks including; drafting blog posts and language for website
This position is for YOU if you are:
· An excellent written and verbal communicator
· A team player
· Knowledgeable of various social media platforms and aware of social trends
· Creative, resourceful, engaging, organized and detail oriented
Minimum of one year of experience using various social media platforms, including but not limited to: Facebook, Twitter, Instagram, Google. Ability to identify and understand a target market and "speak"" to them through social media. This internship is flexible; you can work remotely.
Interested applicants should send their resume to [email protected]